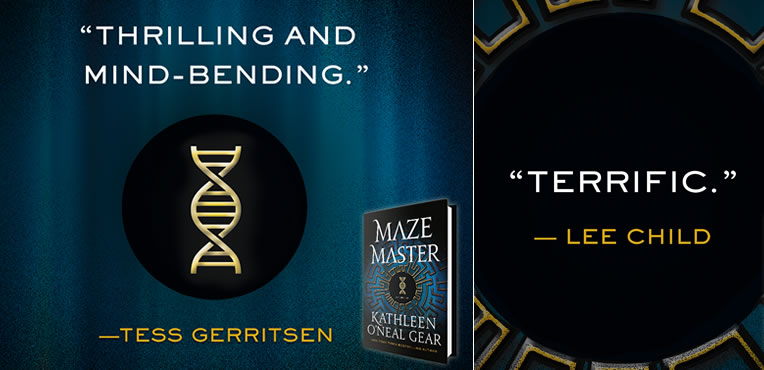 Hi All!
We hope you are having a wonderful summer. In this newsletter we're going to give you a preview of the scientific background behind MAZE MASTER, which will hit the shelves July 17, 2018. Though this article will be published in a couple of magazines in July, you get to see it here first.
MAZE MASTER AND ANCIENT HOMINID 'HANKY PANKY'
By
Kathleen O'Neal Gear
A reporter once told me that our library could pass for a crime lab. Skulls detailing the history of humanity line the shelves and perch on pedestals, beginning with a diminutive acrylic cast of Australopithecus afarensis, running through a variety of Homo erectus examples, then on to the impressive skulls of Neandertals, who had larger brains than modern humans, and finally through a selection of prehistoric human skulls from cultures around the world. The neatly defined sections of books beneath the skulls are devoted to the chronology of human evolution. As anthropologists, my husband Michael and I are fascinated by the long journey of Homo sapiens. The question every anthropologist wants to answer is: What are we and how did we come to be?