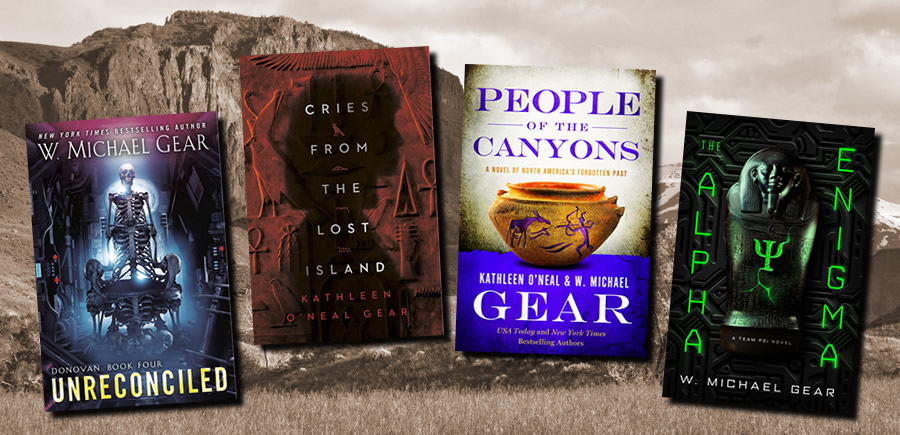 THE GOOD NEWS! We are celebrating the publication of PEOPLE OF THE CANYONS, and what a great job Nancy Peterson did on the audio version with her reading of the novel. She caught the essence of Tsilu and most particularly, Blue Dove's condescending arrogance. As we come closer to the end of the "People" books, we are both saddened, and rewarded. Not many series last through thirty novels spanning three decades. We are delighted to have brought ancient Native America to millions of readers around the world. If you haven't read PEOPLE OF THE CANYONS, it is currently available in hardback, audio, and e-format.
And yes, LIGHTNING SHELL is still scheduled for delivery to Forge Books next summer. With it we will bring the Cahokia series to a conclusion.
Also recently released are Kathleen's CRIES FROM THE LOST ISLAND, which came out in March, and UNRECONCILED, the 4th Donovan book.
CENSORSHIP: On a more stormy front, we are engaged in a fight that we never would have believed possible. Not in America. Not with—of all people—a publisher who claims to champion the First Amendment and free speech. It's still hard to believe this is really happening.
Michael's ALPHA ENIGMA is scheduled for publication on November 3 this year. Maybe. Penguin Random House—within which, DAW Books resides—now has a censorship committee. Yes, you read that correctly. And they have targeted ALPHA ENIGMA over "sensitivity concerns." They have identified certain characters, dialog, descriptions, and situations as "troubling." As a result, Michael is being asked to make significant changes to the novel—a sort of "literary cleansing" that apparently will make it less objectionable to anyone who might be, well, "sensitive." If the changes are not made, PRH will force DAW Books pull the book from the November list. Essentially, ban it.