June has been a remarkable month for us.
First, we have been the recipients of the Western Writers of America's Owen Wister Award for lifetime contributions to Western literature, and will be inducted into the Western Writers' Hall of Fame along with names like A.B. Guthrie, Bernard de Voto, Mari Sandoz, Zane Grey, Willa Cather, Louis L'Amour, Dorothy Johnson, Elmer Kelton, David Lavender, and so many other giants.
In the run up to this, Michael was informed he would be inducted into the Colorado Authors' Hall of Fame on September 18 in a special ceremony in Denver. And, yes, he is a 4th generation Colorado Native and so many of our books were written, or use, Colorado as a background. Two hall of fame inductions in one year? Leaves us wondering what these organizations know that we don't. Usually, they save these things for just before you're going to die.
For the record: We're both still remarkably healthy, feeling chipper, and ready to duel with dragons even if we're getting a bit slow when it comes to outrunning bison.
No sooner had that started to sink in than we were informed that Kathleen's novel Cries From the Lost Island had placed 1st in the Young Adult category in the International Book Awards. Nor was she the only winner. Michael's Unreconciled, the 4th Donovan novel, was the 1st Place Winner in the International Book Awards Science Fiction category. Two number one books! It left us humbled and honored.
As hard as it is to believe, we've had three books released this month. That never happens. Dealing with it all has left us overwhelmed. First was Adrift, then came Dissolution, and in our next newsletter, we'll be discussing Kathleen's remarkable novel, The Ice Lion.
If you read our science fiction, we would like to encourage you to enter your five favorite Gear titles in the National Public Radio best science fiction novels survey. This is only for titles published in the last decade, which include Outpost and all the Donoval titles. Kathleen's Maze Master and The Ice Lion and finally Michael's Western science fiction, Dissolution. Just click the link below:
https://www.npr.org/2021/06/22/1007341304/summer-sff-poll
Seems that, like everything in our lives, the novel has quite a story behind it. Our publishers at Forge Books asked us, as anthropologists, to write a post-apocalyptic novel. They thought it would play to our strengths given that we'd been studying and writing about the collapse of cultures for most of our lives. We did. Not all of publishing is about a book's quality. The editor rejected it. The publisher wanted to publish it under a pen name. Doing so might have, shall we say, roiled waters that we'd rather have placid and smooth. So, we took the book to Wolfpack Publishing instead.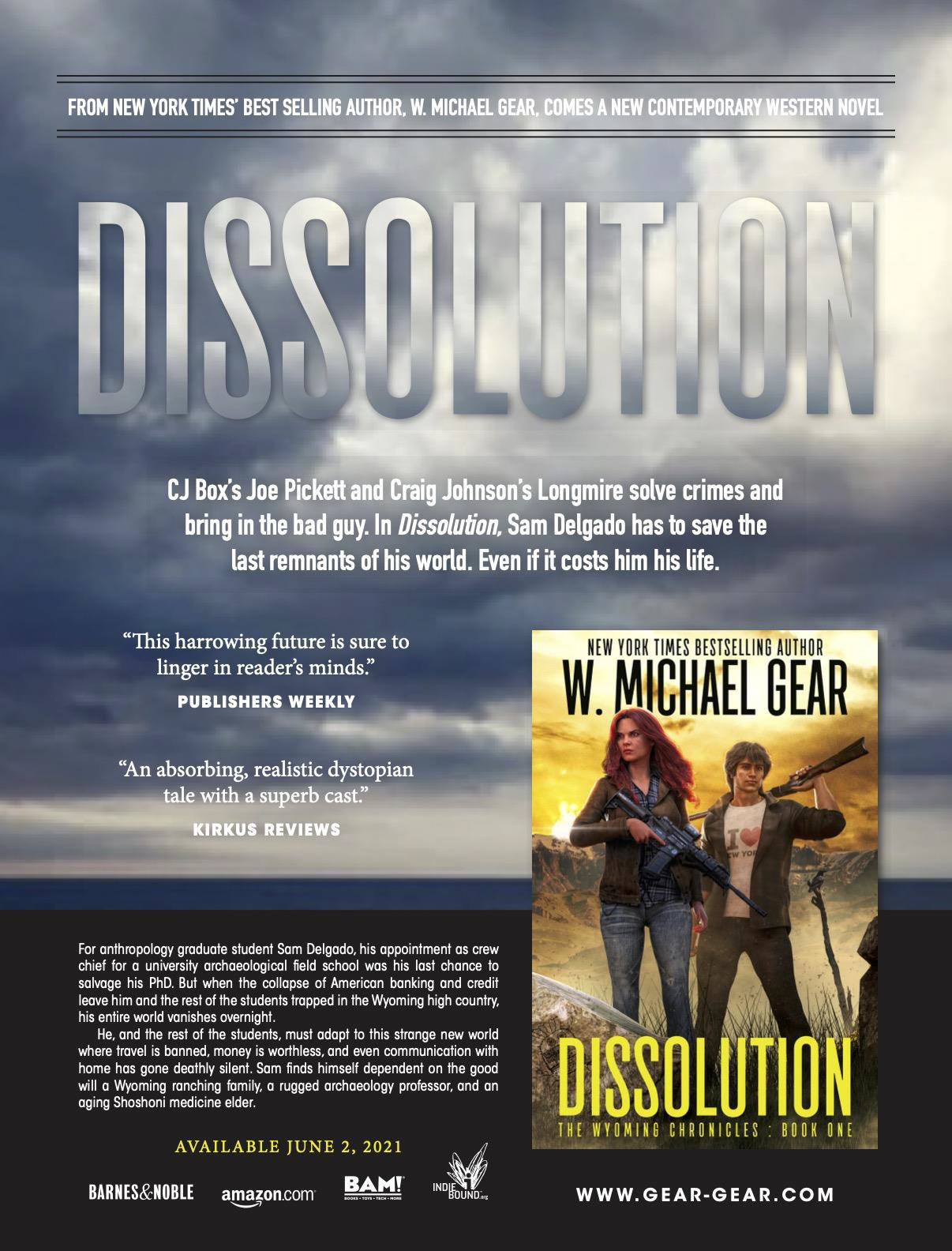 Wolfpack is one of the fastest growing publishers in the U.S. This is their first hardback, though the book is available in trade paperback, eBook, and audio as well. Coming out on June 2, the day after Adrift, we've been delighted to see Dissolution holding the No. 1 bestseller spot in Western science fiction for the last three weeks now on Amazon! And it's right up there with Disaster Fiction! Not only that, but as of this writing, it has a 4.6 Star rating with 90 reviews! Critically, this is the best release we've ever had for a book!
So, what is Dissolution, and is it for real?
The novel revolves around an archaeological field school from back east. Sam Delgado, the crew chief, is a graduate student in search of a dissertation for his PhD. They've barely arrived in Wyoming, ready to map and excavate a high-altitude occupation site, when the banking system is hacked. Like, big time. That element of the story is not fiction. We were advised by the best, an international banking consultant who told us, "This is how it would be done." For details, you'll just have to read the book. (Our fan club director immediately called her bank to insist on paper statements from here on out. Smart lady!)
Sure, lots of novels and movies have dealt with the end of the world, but we wanted to go deeper with characterization, economics, and most of all, morality.
Sam has to make the kind of choices that either make a person a savage or a saint. Ultimately, the choice comes down to taking responsibility for saving at least a precious little bit of civilization. But it will come with a terrible price.
Like all of our novels, Dissolution has a distinct anthropological bent, deals with archaeology, Shoshoni mysticism, a hint of the mystical, and of course, the setting is so vivid it's almost a character in the story. You will find love, action, politics, and edge-of-the-seat tension. Check out the reviews on Amazon or Goodreads. We don't write novels for people who don't think, and Dissolution has left many of our readers changed.
If you haven't read Dissolution, order a copy today through your favorite bookseller. The publisher has informed us that it will be entered in the Spur Awards, the ITW Thriller of the Year awards, International Book Awards, Best of the West competition, and Wrangler Awards among others. Yeah, it's that kind of book! Of course, after you read it, we would really like to hear your thoughts and comments.
While Dissolution is a stand-alone novel, we're in negotiations for the sequel: Third Quadrant. If all goes well it should be out after the first of the year.