We've added a new excerpt, from People of the Weeping Eye and People of the Thunder. Release date for People of the Weeping Eye is currently April, 2008. There's no release date yet for People of the Thunder.
To Cast a Pearl is published in Germany, from Lübbe. Look for US publication from TOR in June of 2008.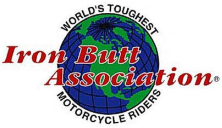 Michael is pleased to announce that he is now (unofficially) an Iron Butt motorcyclist! On July 13-14, he rode his BMW from Denver to Thermopolis, almost circumnavigating Yellowstone in the process. He rode 1445 miles in 22 hours and 44 minutes, and has the gas receipts to prove it. He qualified for the SaddleSore rating, but is 65 miles short of the BunBurner Gold rating. Once the association certifies his records, his name will go up on the Iron Butt Association's web site.