HAPPY SUMMER TO ALL!
It's been an interesting month for us. As many of you saw on the evening news, Yellowstone National Park got about 40 inches of snow, then 2 inches of warm rain fell on top of it. At one point, the Yellowstone River was flowing at 51,000 cubic feet per second. We had lots of roads washed away and several mountain towns around Yellowstone were flooded and isolated from the rest of the world. We are pretty much back to normal, but the cleanup, and rebuilding of roads and bridges, will take much longer. Some gates into the park are closed for the season. The mountains are still covered with snow. The good news is that all the moisture means the hills are covered with thick grasses and wildflowers. It must be a relief to the bison, elk, deer, and other wildlife.
We just returned from the Western Writers of America conference in Great Falls, Montana.
What a great trip! We saw many old friends and made new ones. One of the highlights was a trip to nearby Fort Benton. They have a walking/driving tour of the river with excellent interpretive signs discussing the history of the town. We also spent a couple of days in the C.M. Russell museum in Great Falls studying the bison in Charlie Russell's paintings. He was a master of wildlife anatomy. Historical artists frequently painted animals they had never seen, basing their work on the images of other painters. As a result, there are some strange looking bison in paintings from the nineteenth century. Russell is the exception. Generally, his bison are beautifully accurate, especially in his later paintings.
The other highlight of the conference was winning a finalist award for DISSOLUTION in the category of "best contemporary western novel." We got beat by C.J. Box, who won the Spur Award for his outstanding book DARK HORSE. If you haven't read it, it's excellent!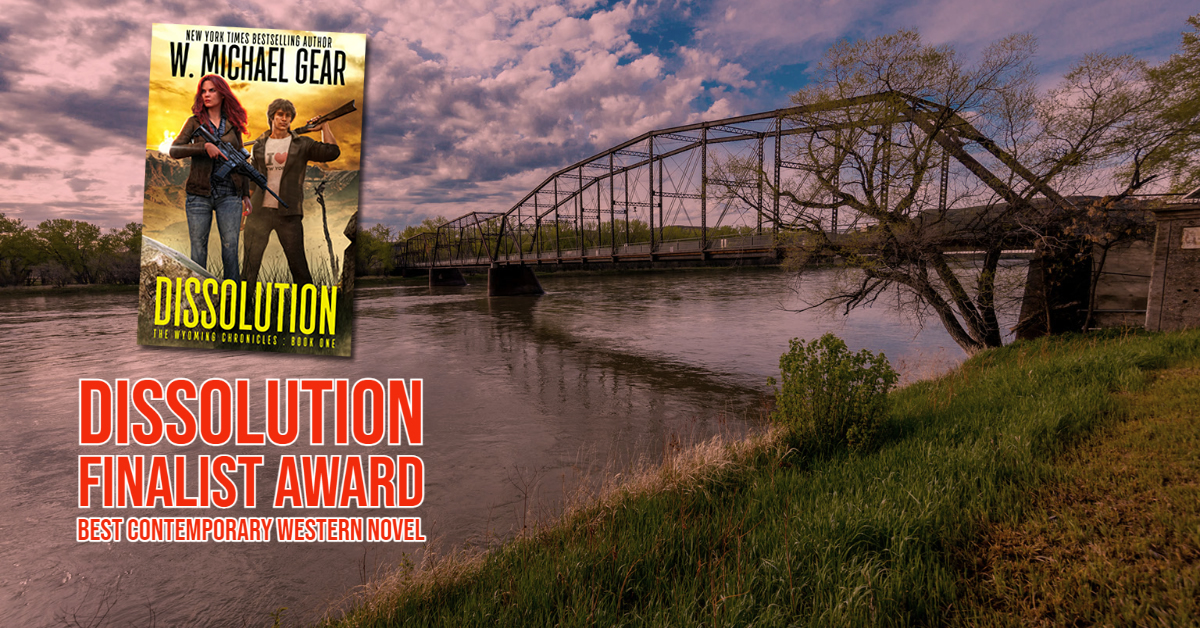 In their careers, authors always have favorite books that they've written. The MOURNING WAR is one of Kathleen's. It was first published about thirty years ago with the title THIS WIDOWED LAND and has been out of print for many years. It's such a delight to see it available again with a beautiful new cover. Why the new title? Because language has changed. The terms widow and widowed are rarely used these days, so the word has an awkward and antiquated feel to it. The story revolves around the sixteenth century "End of the World" prophecies that propelled missionaries to come to North America in the seventeenth century and is based upon an actual historical woman, Andiora, and her friendship with the Jesuits who arrive in her Huron village. When young Jesuit priest, Marc Dupre, is lost in the forest with her, he's torn between his vows and the knowledge that he's falling in love with her. Set in a turbulent, war-torn period of American and Canadian history, it's filled with action and suspense and, of course, a beautiful story of forbidden love. We hope you enjoy this new edition.
IMPLACABLE ALPHA is Book 2 in the Psi Team series. Book 1 was ALPHA ENIGMA. The mysterious woman who came within a heartbeat of killing prisoner Alpha in the Grantham parking garage is back. This time she's snatched Dr. Timothy Ryan, and the Psi Team finds itself caught in a battle that's been raging across timelines for 2,000 years. Just when things seem like they can't get any worse, Alpha appears. And this time, she's coming for blood.
We hope you have a beautiful summer!
Michael and Kathleen
You can get THE MOURNING WAR (previously titled THIS WIDOWED LAND) at your local bookstore or on AMAZON.
You can get IMPLACABLE ALPHA at your local bookstore or from:
AMAZON • BAM! • BARNES AND NOBLE
For autographed copies of any of our books visit STORYTELLER BOOKS