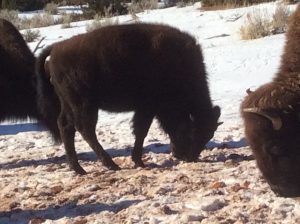 We woke this morning to find four inches of fresh snow covering the red cliffs, and forty-nine elk standing on the mountain slope in front of the house. We made coffee and sat in front of the window to watch them peacefully graze down the mountain to the creek below.  As we did, we could hear the buffalo calling to each other in the meadow.  They love cool spring mornings best of all.  There's new green grass, but no biting flies yet.
Perfection is made of April mornings like this…
Hope you have a peaceful and perfect day!
Mike and Kathy