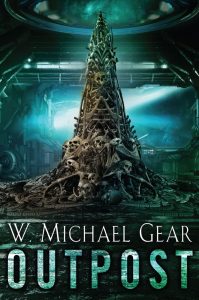 Hi Everyone!
We are delighted by the advance reviews for Mike's upcoming science fiction novel, OUTPOST! Here are just a few…
"What a ride! Excitement, adventure, and intrigue, all told in W. Michael Gear's vivid, compulsively readable prose. A terrific new science-fiction series; Gear hits a home run right out of the park and all the way to Capella." —Robert J. Sawyer, Hugo Award-winning author of Quantum Night
"A marginal colony on a living world—where human life and human will are tested to the limits. An intriguing and inventive new work from Michael Gear, first of a trilogy. Recommended!"–C. J. Cherryh, Hugo Award-winning author of Downbelow Station
Nerd Much – 13 Best New Sci-Fi and Fantasy Books: February 2018
https://www.nerdmuch.com/books/153882/best-new-sci-fi-fantasy-books-february-2018/
Dread Central
https://www.dreadcentral.com/news/262721/head-w-michael-gears-outpost-dangerous-sci-fi-horror-adventure/
While W. Michael Gear's new novel Outpost is mainly sci-fi, there are enough monstrous creatures and terrifying moments in it that fans of Alien and the like should enjoy it, which is why we're advising you to mark your calendars for February 20, 2018. That's the book's release date via publisher DAW (a Penguin Random House imprint).
A thrilling tale of high stakes survival on an alien planet, Outpost is the first installment in Gear's new The Donovan series. The second book, Abandoned, is scheduled to arrive in November 2018, so if you like the first one, you won't have to wait too long for a sequel.
Booklist
On the distant planet Donovan, the realities of colonization meet the cold, hard demands of corporate overlords. In the years since Donovan was settled, many original colonists have died and several supply ships have completely vanished, leaving the planet nearly feral. Corporation Supervisor Kalico arrives to discover disarray, and demands answers from community leaders. Competing interests from Corporation employees create tension, as Donovan's loose organization offers opportunity for deception and deceit. However, Kalico must first deal with one of the missing ships that reappears bearing horrific cargo and a seemingly impossible paradox. Gear (Moon Hunt, 2017, with Kathleen O'Neal Gear) kicks off a new sf series by weaving a number of compelling characters into the narrative, including bold heroine Talina Perez and Donovan itself, a planet teeming with danger and delights in turn. The mix of stolen identities, rapacious greed, and treacherous landscape propels the reader forward, hurtling toward the possibility that nobody is destined to escape Donovan alive. Fans of epic space opera, like Rachel Bach's Fortune's Pawn (2013), will happily lose themselves in Donovan's orbit.