Hi All,
It's been hot here. Well hot for us, in the low 90s. The grass is finally starting to turn a rich summer tan, but all of our springs are still running. The buffalo love these secret water sources hidden in treed drainages around the ranch.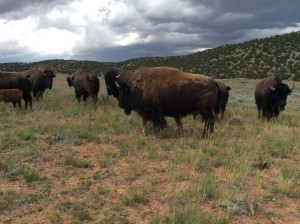 We're having fun working on PEOPLE OF THE CANYONS, about the Fremont culture–such a fascinating prehistoric people!
On these hot days, keep in mind that the cool temperatures of autumn are just around the corner.
Michael and Kathleen