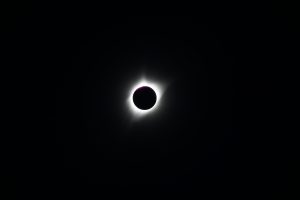 (Photo by Emil Hulongbayan)
Hi All,
So, in April of 2024, America will have another total solar eclipse. Don't miss it. Yesterday in Wyoming was so awesome it's hard to describe. About ten minutes before the total eclipse the crickets came to life and sang through the eclipse, the temperature dropped twenty degrees, and the shadow bands on the white sheet we'd spread out began to flutter. The shadow waves moved from south to north; it was ethereal. Then, when the totality occurred, we all took off our eclipse glasses–which is the only time you can–and looked at the moon completely covering the sun. The corona of fire around the black disk was unbelievable. Truly. It was unbelievable. Sunset simultaneously occurred on every horizon, west, east, south, north; every cloud turned pink. And the buffalo literally froze in place. They stood absolutely still. It was like looking at a painting of buffalo at night. Pure magic.
When the first sliver of sun broke out of the shadow of the moon again, the shadow bands reappeared on our sheet, but this time they fluttered from north to south–in reverse. It was absolutely stunning.
Wow, what a day.
Kathy and Mike