The release of Michael's "Saga of the Mountain Sage" in Four volumes!
...But what does it all mean?
Greetings, all!
June rolled down on top of us like a wave! You'd think, after all, June usually follows May. But this year, somehow, June 1st smacked us out of the blue! One day, it was just sometime in May, and then, wham! When did that happen?
It's been a wonderous, fantastic, wet and rainy spring here in northwestern Wyoming. The greenest spring we can remember. Better even than 1979, 1987, and 1996! The country looks like Ireland. That kind of eye-popping green! The grass is thick and seeding out nicely. Lots of subsurface moisture, but we're wondering how the hay producers are coping. It's nice to grow lots of lush and magnificent grass and alfalfa, but you need warm dry conditions to cut it, dry it, and bale it. Since we're on the cusp of first cutting, we hope they get a break in the precipitation.
During all of this, our shop/garage was re-roofed and re-sided, and we're having a fence built around the property. Jake, our soon-to-be fourteen-year-old Sheltie, insists on his daily walk, despite the four fused vertebrae in his back. Other than that, he's doing remarkably well. Though with the travel we're doing, he's going to be spending too much time in the "Spa." Jouncing in the truck just hurts him too much.
And, on the book scene? In May Michael delivered a short story that Wolfpack Publishing had requested for their fall anthology. Mike sent them "Bad Choices", which is set in the Wyoming Chronicles universe. In keeping with the Western theme, it's a very non-traditional save-the-ranch story with twists that should make it interesting and entertaining for modern readers.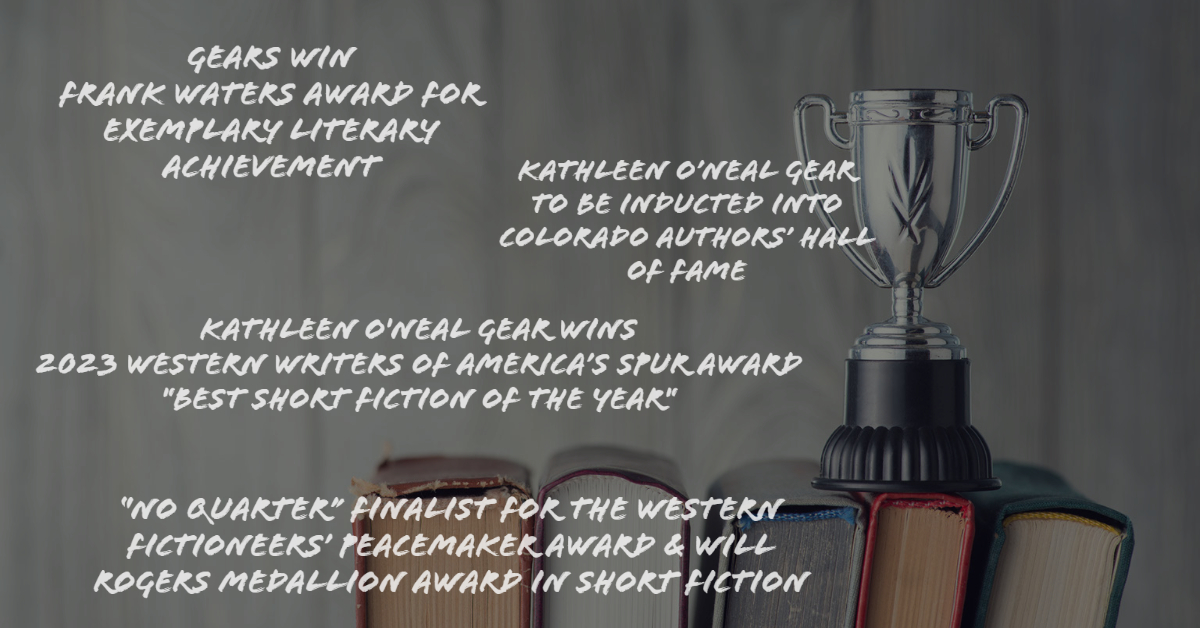 On to awards!
On June 3rd we received the Frank Waters Award for exemplary literary achievement. The award, given by the Pikes Peak Library Association, was first given to Frank Waters back in the 80s and became eponymous. Other awardees include N. Scott Momaday, Marshal Sprague, Tony Hillerman, CJ Box, John Nichols, and many others. We are quite honored and humbled to be walking such company.
Kathleen has been delightfully surprised by the recognition generated by her "No Quarter" short story in the Rebel Hearts anthology. She wrote the story about Bettie and Charlie, two of Jim Bowie's slaves in the Alamo. On June 24th, Kathleen will receive the 2023 Western Writers of America's Spur Award for best short fiction of the year. At the same time, "No Quarter" is a finalist for the Western Fictioneers' Peacemaker Award and the Will Rogers Medallion award in short fiction! And to top it all, she's been informed that on September 11, she will be inducted into the Colorado Authors' Hall of Fame.
Guess the bar for Michael's short story has been set pretty high! The lad will be eating humble pie if it doesn't even place, somewhere, in next year's competition. But then, as he likes to say, "If you don't have talent, marry it!" And he did!
So, what is the "Saga of the Mountain Sage?"
Simply put, it's the reissue of Michael's The Morning River and Coyote Summer. First written as a 1500 page saga, and originally published in 1995 in two volumes, the story has long been a perennial favorite for so many. This is the story of Richard Hamilton, a young Harvard philosophy student who is sent to the frontier, gets mugged in St Louis, and sent up the Missouri on a fur trading expedition. There he meets Heals Like a Willow, a widowed Shoshoni woman, and Travis Hartman, an illiterate mountain man. So what happens when a scholarly "know-it-all" superior snob is slapped in the face by the real world? Let's just say, Richard is in for a painful education.
For the first time, The Saga of the Mountain Sage will be available on eBook and eventually in audio. But tastes, and how people read, have changed. Especially in the digital world. Short volumes sell better than large ones, and there's some sort of magical algorithmic benefit to a selling four short volumes instead of one big one that will allow the books to garner a broader readership. Since The Morning River, part one, has already racked up over one hundred 4.4 Star ratings in the month since its release, we'll accept that the folks at Wolfpack know what they're doing. As of this writing it was the No.1 Release in US Historical Fiction. Part 2, White Mist Dog was the No.1 New Release in Native American Fiction.
In approaching the re-release, Wolfpack Publishing decided to rebrand the books as "Saga of the Mountain Sage" and release it in four volumes. The first is The Morning River followed by White Mist Dog, which were contained in the original hardback. A Panther's Scream and Coyote Summer compose the second volume. So, to recap: What was two books is now four!
We're packing now in anticipation of this year's Western Writers of America conference in Rapid City. Should be interesting times.
Until next time, we hope this finds you well, reading in health, and enjoying a cool and refreshing summer!
Michael and Kathleen