THE GOOD NEWS! We are celebrating the publication of PEOPLE OF THE CANYONS, and what a great job Nancy Peterson did on the audio version with her reading of the novel. She caught the essence of Tsilu and most particularly, Blue Dove's condescending arrogance. As we come closer to the end of the "People" books, we are both saddened, and rewarded. Not many series last through thirty novels spanning three decades. We are delighted to have brought ancient Native America to millions of readers around the world. If you haven't read PEOPLE OF THE CANYONS, it is currently available in hardback, audio, and e-format.
And yes, LIGHTNING SHELL is still scheduled for delivery to Forge Books next summer. With it we will bring the Cahokia series to a conclusion.
Also recently released are Kathleen's CRIES FROM THE LOST ISLAND, which came out in March, and UNRECONCILED, the 4th Donovan book.
CENSORSHIP: On a more stormy front, we are engaged in a fight that we never would have believed possible. Not in America. Not with—of all people—a publisher who claims to champion the First Amendment and free speech. It's still hard to believe this is really happening.
Michael's ALPHA ENIGMA is scheduled for publication on November 3 this year. Maybe. Penguin Random House—within which, DAW Books resides—now has a censorship committee. Yes, you read that correctly. And they have targeted ALPHA ENIGMA over "sensitivity concerns." They have identified certain characters, dialog, descriptions, and situations as "troubling." As a result, Michael is being asked to make significant changes to the novel—a sort of "literary cleansing" that apparently will make it less objectionable to anyone who might be, well, "sensitive." If the changes are not made, PRH will force DAW Books pull the book from the November list. Essentially, ban it.
What's the fuss about? Here's the story: A woman carrying a curious electrical device appears in a top secret Los Alamos lab during an experiment to attract entangled particles from the past. She appears to speak no common language, has no familiarity with the world, is in no data base, doesn't recognize numbers. Is she a spy, or mentally ill? Named "Prisoner Alpha," her electronic device is seized, and she is sent to the military psychiatric hospital at Grantham Barracks for evaluation.
Meanwhile, in Egypt, archaeologist Reid Farmer is hired to excavate an 18th Dynasty tomb; but he finds Mayan mathematics, Latin text, and…electrical diagrams? Things that didn't exist in 1350 BCE.
In Grantham Barracks, the staff and patients in Ward Six are curious about Alpha. Among them are PTSD patient Karla Raven, the first female SEAL; Captain James Falcon who suffers from DID/Schizophrenia; Cat Talavera, a national security risk with two PhDs; diagnosed with APD, pilot Winny Swink can fly anything; E.T. Jones, the kid who escaped the Detroit gangs to become a computer genius; and, finally, in charge of Grantham—and seeking to understand Alpha—is Dr. Timothy Ryan. Tension builds as Ryan tries to discover Alpha's secret…right up until the woman vanishes without a trace from her high-security quarters. Ryan is accused of aiding her escape and relieved of duty.
Meanwhile, Reid Farmer, along with a couple of sarcophagi, is rescued from Egypt, only to be snatched on Pennsylvania Avenue in DC and spirited off to a hidden lab where he and forensic anthropologist Kilgore France are faced with the impossible: a thirty-five-hundred-year-old-mummy that the science says comes from a very modern world.
Karla Raven takes it on herself to escape Grantham in search of Alpha, and clear Ryan's name. To do so, she will need Falcon's brains, Swink's ability to fly, ET's computer talent, and Cat's biochemical acumen. But arrayed against them is Skientia, a powerful high tech firm with ties that run all the way to the White House—and Skientia has already been willing to kill in order to obtain Alpha's secret.
But who is using whom? Because Alpha is playing her own deep game—one without mercy, compassion, or morals.
So, there it is, an archaeological mystery and science thriller, based on Many Worlds physics. Hardly the incendiary stuff of truly "troubling" literature. What did the censors balk over? The first objection was a conversation between two of James Falcon's hallucinated personalities. When Major Marks refers to Theresa as "a skinny puke." Um, did the word hallucination not register? And then it goes from inane to insane.
Overall, the novel is a sympathetic treatment of human beings with psychiatric disorders who overcome, and even rely on their "disabilities," to save the world. As improbable a group of heroes as you will find in fiction. Yes, we did our research and even had the novel vetted for accuracy. Nor is ALPHA ENIGMA any sort of political polemic. It began as sort of modernized Doc Savage pulp.
WHAT TO DO?
Michael will work with DAW Books to reword some sentences—provided that he can do so without compromising the integrity of the novel. If a compromise cannot be reached, and PRH removes ALPHA ENIGMA from publication, the only resort will lie with the courts. Let's hope that some version of sanity intervenes. We would rather be writing than litigating.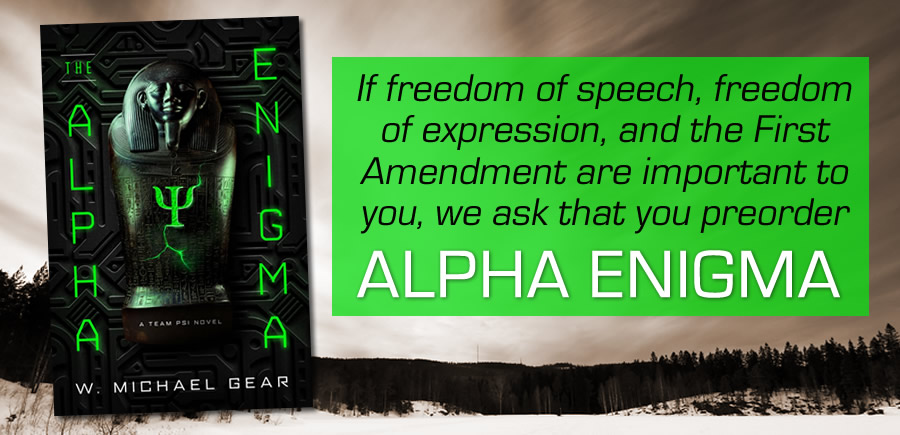 Note the hypocrisy, from Penguin Random House's own website: "The right of freedom of expression, and the protection of writers against censorship and unjust persecution, are indispensible to the development of society and culture. We at Penguin Random House are unwavering in our support of writers who seek out truth in their stories and stand with organizations that share in our commitment and devotion to free speech as a fundamental right." — By the Author Newsletter Team and the Penguin Random House Legal Department. Yet they are censoring their own authors, banning books that do not appease the censorship committee, for that is what "sensitivity" readers are.
WHAT YOU CAN DO: If freedom of speech, freedom of expression, and the First Amendment are important to you, we ask that you preorder ALPHA ENIGMA through Amazon, Barnesandnoble.com, or BAM.com. Given that PRH is "unwavering" in their support of all authors except their own, they will pay attention to preorders. In publishing, the bottom line always speaks loudest. If we can generate a couple thousand preorders, we may be able to get the book published uncensored.
OUR PROMISE TO YOU: If we win this fight. After the book comes out, and you have had time to read it, we will host an online forum discussing the novel, and which elements—if any—you the reader may have found offensive. We will invite the PRH censors to participate and defend their criticisms to you, the reading public. (Want to take any bets on if they participate?)
Who would have thought?
We've been remiss with the newsletter, having been preoccupied with a major change in our lives. We are no longer living on the ranch. The move was supposed to have allowed us more time to write. The last thing we figured on was that we'd have to go to war to save one of our books from the publisher's intolerance.
To pre-order ALPHA ENIGMA:
Amazon: https://www.amazon.com/Alpha-Enigma-W-Michael-Gear/dp/0756414466/
Barnes & Noble: https://www.barnesandnoble.com/w/the-alpha-enigma-w-michael-gear/1136703978
Books-a-Million: https://www.booksamillion.com/p/Alpha-Enigma/W-Michael-Gear/9780756414467?id=7932034079875
Powell's: https://www.powells.com/book/the-alpha-enigma-9780756414467
Apple iBooks: https://books.apple.com/us/book/id1503982606
IndieBound: https://www.indiebound.org/book/9780756414467
Walmart: https://www.walmart.com/ip/The-Alpha-Enigma-Hardcover-9780756414467/226276676