We've added a new excerpt, from People of the Weeping Eye and People of the Thunder. Release date for People of the Weeping Eye is currently April, 2008. There's no release date yet for People of the Thunder.
To Cast a Pearl is published in Germany, from Lübbe. Look for US publication from TOR in June of 2008.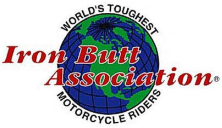 Michael is pleased to announce that he is now (unofficially) an Iron Butt motorcyclist! On July 13-14, he rode his BMW from Denver to Thermopolis, almost circumnavigating Yellowstone in the process. He rode 1445 miles in 22 hours and 44 minutes, and has the gas receipts to prove it. He qualified for the SaddleSore rating, but is 65 miles short of the BunBurner Gold rating. Once the association certifies his records, his name will go up on the Iron Butt Association's web site.
Kathy, meanwhile, has started work on a book for children ages 8-12, for Tor's Young Readers category. The working title is Children of Dawnland. It takes place some 12,000 years ago as a comet explodes over China, and glaciers begin to melt. Kathy says that writing for children requires a very different writing style.
Kathy is freshly elected to the Western Writers of American board for a two year stint.
Twenty years in print! Not only Mike and Kathy, but Michael's The Warriors of Spider will have been in print continuously for 20 years as of March 20, 2008. Expect to see a special 20th Anniversary edition. And maybe similar treatment for Long Ride Home, Michael's first book sale? Mike says his writing has gotten a lot better since then. As Kathy observes, "If you're not getting better, you will be winnowed out."
Michael and Kathy have a new thriller under contract to Lübbe, their German publisher. The working title is Comes a Green Sky, and the tentative German publication date is Summer, 2008. No US publisher has been signed. Yet. The story line involves a fully automated cruise ship sailing the Indian Ocean — with everyone aboard dead. Mary Celeste version 2.0? Wonder how that will go over on the next Authors at Sea cruise.