Hi All!
I just shipped off the final revisions to my thriller, MAZE MASTER, which is coming out in July.  
It's been an interesting editorial process this year. There are a few pivotal editors–I mean truly great editors–in literary history: Maxwell Perkins, Gordon Lish, Judith Jones, among a handful of others.  Remember the classic Tom Wolfe novel, LOOK HOMEWARD, ANGEL? Maxwell Perkins made Wolfe take out 90,000 words… That's why we consider it a classic.  
My editor at St. Martin's Press, Peter Wolverton, falls into the Perkins group.  It's been a pleasure and a privilege to work with him on this book. 
Hope you are all healthy and happy.  Winter has come to Wyoming.  As I write,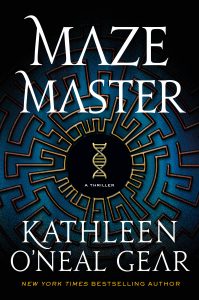 frosty buffalo are frolicking through the snow in the meadow outside my window.  
Stay Warm!
Kathy