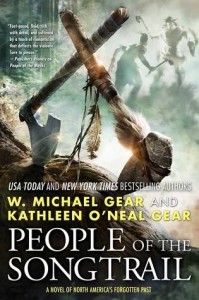 PREVIEW!  PEOPLE OF THE SONGTRAIL, coming May 26th! http://www.barnesandnoble.com/w/people-of-the-songtrail-kathleen-oneal-gear/1120327521?ean=9780765337252
     Father's voice is urgent.  "And the succession, my lord?  Who rules now?"
     "Harald succeeded him, but the Danish fleet proclaimed his older half brother, Cnut, king.  In the confusion, Aethelred the Unready marched back from his exile in Normandy and drove Cnut out of England.  Aethelred rules England now and Harald is the Danish king, though Cnut asked Harald to share the kingship with him."
     "Will he?"
     The man laughs bitterly.  "No.  But, trust me, Cnut will be king soon anyway.  Harald cannot stand against him."
     Father glances at me, and a chill climbs my spine.
     My younger brother, Thord, leans sideways to whisper, "Why did Father look at you?"
     "I don't know."  But a black bubble is swelling in my chest.  When it bursts…
     "Cnuts army is mending ships.  He's marshaling his forces to return to reconquer England."
     Mother turns her back to us, and I watch her long red curls blow across her shoulders in the cool breeze.  She's whispering to Father, but his tight eyes have fixed upon me and Thord.  
      "And what of our charge, sir?"
     The ealdorman pulls a jangling bag from his belt and hands it to Father.  "Personally, I think it's a cruel myth, but if not, the girl may be useful to keep her mother in line."
     The girl….
      Me?
Those of you who've read our short story, THE DEAD MAN'S DOLL, have already met Thyra's mother.  Do you really think anyone can keep her "in line"?