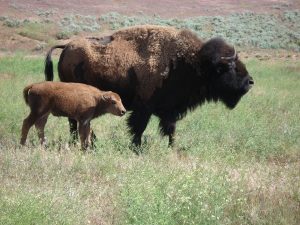 Hi All!
It's been a busy August for us here in Wyoming. We turned in the final manuscript for STAR PATH, the latest book in the People of Cahokia series, and Kathleen also delivered the final manuscripts for the first books in her two new series: THE ICE LION, book 1 of the Rewinding Chronicles, and CRIES FROM THE LAST ISLAND, Book 1 of the Ancient Egypt Saga.
THE ICE LION is a science fiction novel set in a Pleistocene Ice Age future, and CRIES FROM THE LOST ISLAND is a fantasy novel set in modern America and Egypt about two teenage boys searching for the lost graves of Antony and Cleopatra.
It's a real joy to be able to write very different kinds of archaeological stories. Keeps our creativity fresh and vibrant.
The bison are doing exceptionally well. We've had good rain this year, which means the grasses and wildflowers have been beautiful.
We hope you've all had a wonderful summer.
Michael and Kathleen